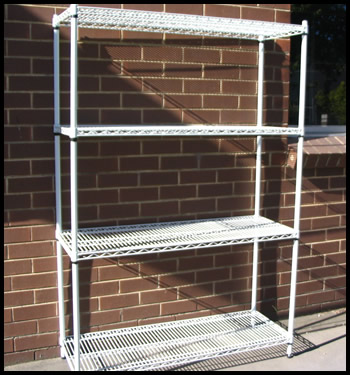 Click image for larger view
1800mm high Cool Room Wire Racks
Price: Call for price
Item: Cool Room Wire Racks
Dimensions Available: Height: 1800mm
Width:   900mm or 1200mm
Shelf Depth: 450mm
Use: Cool room
Information: These racks are Zinc & Powdercoated (Grey) and are ideal for coolroom storage and won't rust in wet conditions.
These units come complete with four (4) Shelves, each of which can easily be set to any height individually. Additional shelves are also available.
Our cool room shelving and storage systems provide high standard, durable and clean storage for your perishables and temperature dependant food. We have a range of sizes and designs to fit any cool room layout and can be tailored to your specificity. Our systems offer versatility and can be utilised in commercial kitchens, large kitchens and catering facilities.