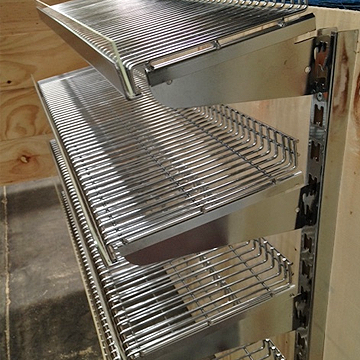 Complete Shop Shelving and Shopfitting Solutions
February 14th, 2018
All types of retail establishments from pharmacies to supermarkets require complete shop shelving and shopfitting solutions in order to conduct business in an attractive, organised manner. If your business is part of this group, you will be relieved to know that you can turn to Affordable Shelving for the solutions that suit your type of business. We offer a wide assortment of products ranging from checkout displays and counters to shopping trolleys and baskets. Our company delivers quality products to each of our clients at affordable prices.
Our Checkout Counters

We provide checkout counters that fit a variety of needs from supermarkets styles with conveyor belts to sales counters for clothing and other retail stores.
We Offer Railing and Entry Gates
In conjunction with these counters, you may want to consider our chrome entry gates to organise your customer lines. We have a straight style that borders the lines and a swing version to denote the start of the line. In addition, you can consider our chrome tube railing in both used and new versions.
Turn to Our Company for Various Types of Shelving
Our assortment of shelving includes the double-sided, pharmacy island gondola shelving system that is designed for pharmacies. Its width is 650 mm or 1000 mm depending upon your preference and comes in a height of 1440 mm. The depth of the shelves is 250 mm or 300 mm. Another example of our shelving is the confectionery shelving with chrome slotted wall stripping. This is appropriate for cookies, candies and other treats. Our double-sided cantilever shelving is an effective choice for supermarkets with its gondola end and out riggers.
Stock Trolleys
Most retail establishments require durable stock trolleys in order to transport merchandise from one part of the store to another or to assist customers with their purchases. We offer four styles:
• Small stock trolley in used condition
• Large stock trolley in new condition
• Flatbed trolley in refurbished condition
• Stock trolley with step in used condition
Produce Displays
We also supply produce tables, stadium produce displays, mobile produce crate displays and various produce bin display units. Along with all of these, our company carries a model of a printer scale and an orange juice extractor.
Shopping Baskets and Trolleys
To provide your customers with a convenient way to carry their purchases through the store, consider our assortment of shopping baskets and trolleys. We even carry kid-size trolleys.
Consult with Affordable Shelving to learn further facts about our complete shop shelving and shopfitting solutions. Our company offers quality products at reasonable prices.
Optimized by NetwizardSEO.com.au